My Father Is A Biker
To tell the truth, the motorcyclist was my father: yes, he had a Mondial 125 and a MV Augusta 250 from the 50's; my mother - his girlfriend, at the time - was always behind him. Then I arrived, and I was put in the middle, between them as if by joint. We didn't have a helmet, I had a kind of one but I cannot call it that way.
My father used the flat cap (newsboy cap) a lot, and many kilos of hair grease, my mother a scarf.
I have always had a passion for hats, I often dressed as a cowboy or Zorro as a child, as evidenced in this photo.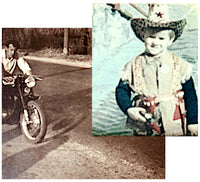 Custom Your Unicity
My Mother is a Biker is, and will always be, a bespoke house at its core. If you haven't seen something on the site that is suitable for you, it is just because we haven't met you yet! We stand by the belief that if you can dream it, we can make it. My Mother is a Biker loves challenges and looks at each project as a new opportunity to create the perfect piece for our clients. With each custom we send out we improve our craft and strive to reflect our clients as an individual. You are unique and deserve a unique piece that makes a statement.